TRAVEL PLANNER APP _ WORK IN PROGRESS
I'm currently studying UX Design methodologies and tools to improve my skills. During this process, I have Lorenza Quinzi, a Visual Designer at Fjord, as my mentor. 
Here I'll register the process of my first time creating an app, from research to visual design.
App for travel planning, including tours list, map, budget control, and history of past trips. Users should have a profile and be logged in to use the app.
Thinking about my own traveler experience and some of my friends', the first tools to plan a trip that I can think about are: Google Maps and Google Drive. The first one can be used to mark all the places you'd like to visit. The second one, with all its possibilities, is where you can register what you discover in your searches, organize itinerary and control your budget. Somehow those tools help (a lot!) to plan and organize informations that can be shared and accessed from anywhere with internet. The problem is that they are not integrated nor were created with the purpose of organizing trips. 
I particularly didn't know about any app that fulfilled all the briefing requirements, so I did a brief research and found out about three apps: Google Trips, TripIt and Roadtrippers.
I analyzed their features and these are my highlights:
_ Google Trips: Travel reservations are automatically gathered from Gmail; it suggests day plans and nearby things to do. It's not completely customizable (the day plan is limited to the app's suggestions) and it doesn't feature budget control.
_ Tripit: It creates an itinerary based on booking confirmations gathered from Gmail, Google Apps, Outlook or Yahoo!mail. It's accessible from smartphone, tablet, computer or wearable device. It's focused on booking control and it's not possible to add another plans to the itinerary timeline. It does't feature a map.
_ Roadtrippers: Despite being focused on road trips, the app has very interesting features like the possibility to share and plan your trip with friends and the fact that the itinerary is completely customizable.
Oops! I had some problems here. I registered everything at the end of this page. :)
MINDSETS
Both me and Lorenza are potential users since we usually travel, but we have different profiles regarding a trip planning. I'm a planning maniac while she doesn't want to worry about planning, but at the same time prefers planned trips. That was the starting point for the definition of two mindsets:

USER JOURNEYS
I created two user journeys, one for each mindset. Those helped me visualize users' needs and goals, and how they could interact with the app (before downloading it / during the planning and the trip itself /
 after

the t

rip).
The evaluated context was: decision to take a casual trip with friends to New York, where they'll visit tourist attractions and go to some restaurants.; together, they need to plan their itinerary in town.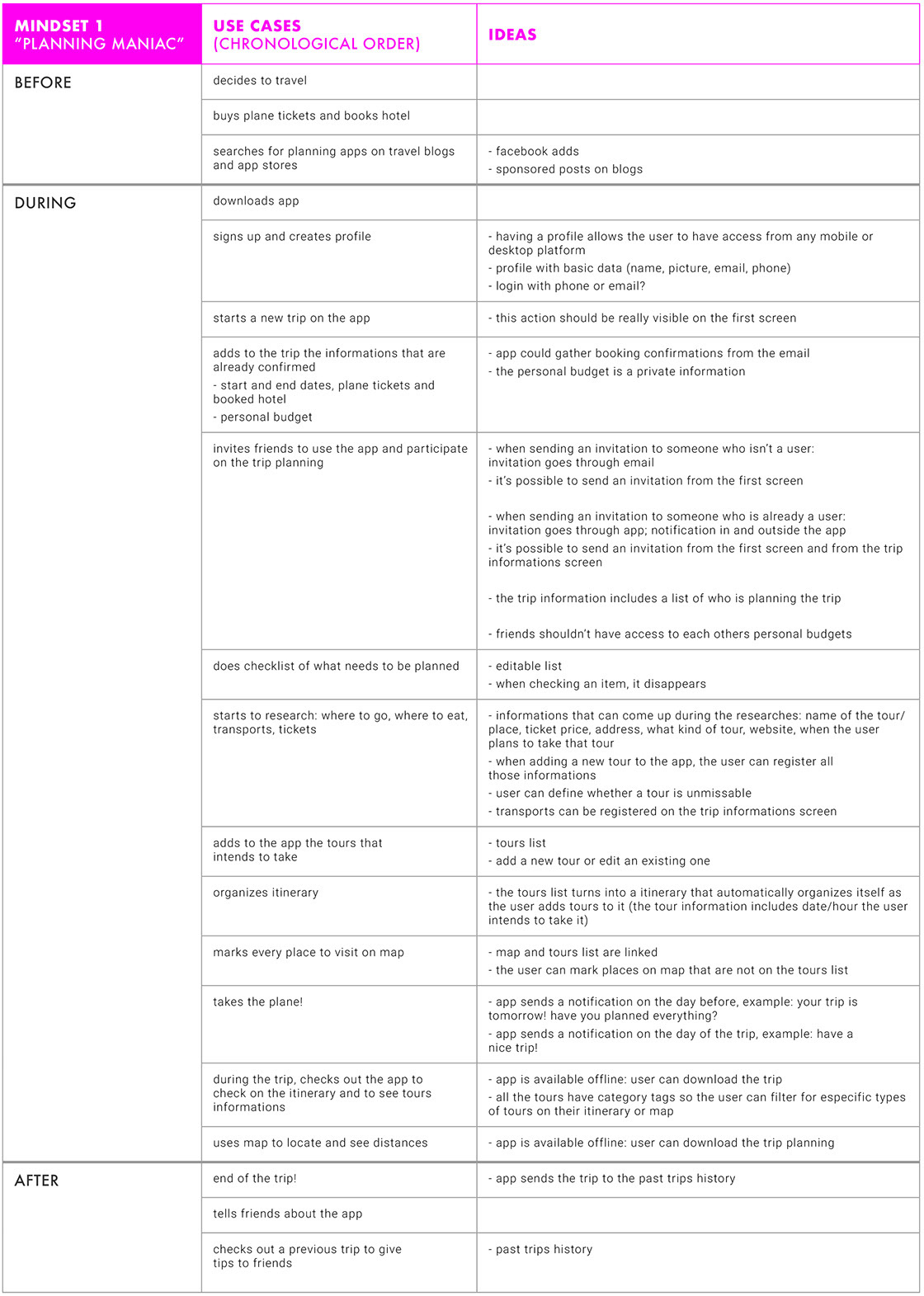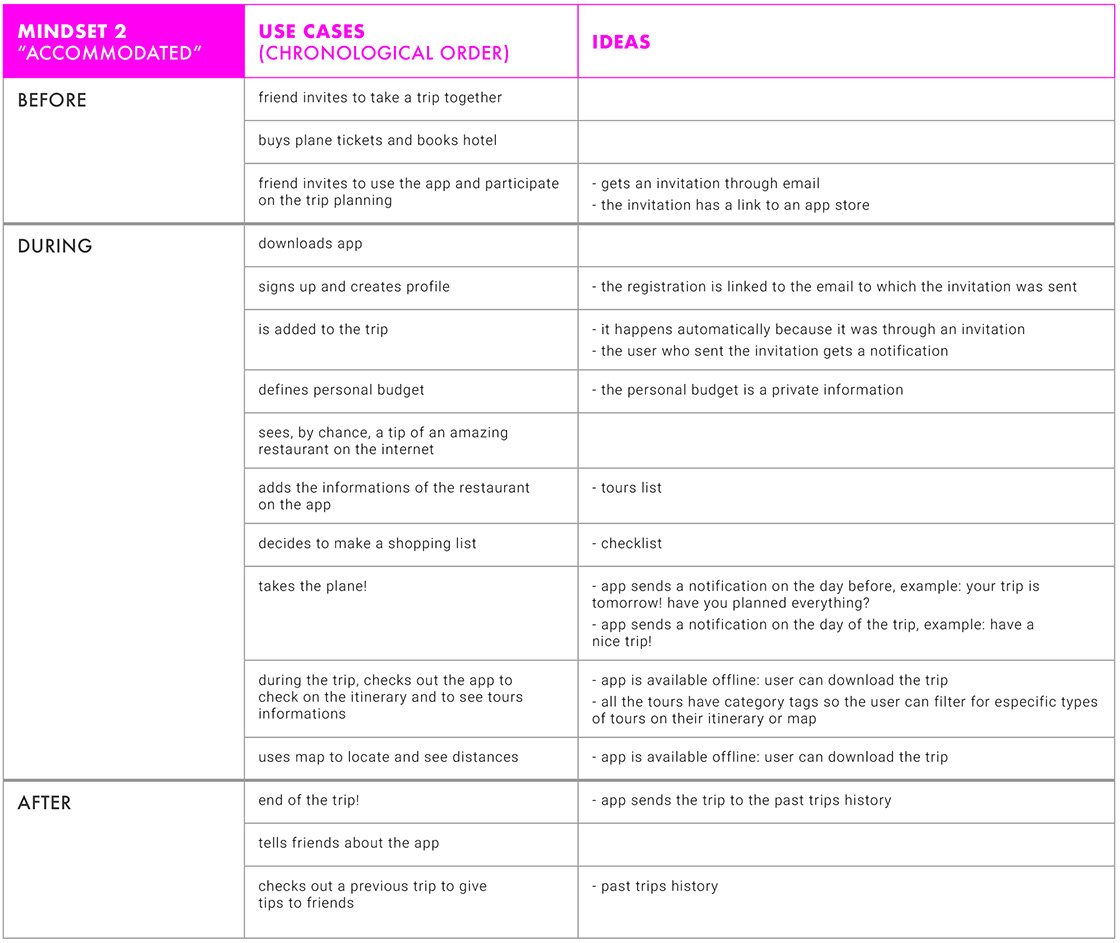 SURVEY RESULTS
From those ideias, I created a survey with 14 questions to conduct a quality research. I chose 15 potential users to answer it: young people with a trip planning habit.
Here are the results:
Basic informations:
53% are 24 to 28 years old
60% travel twice or three times a year
73% are casual travelers (explore a little of everything during a trip)
53% plan every detail before traveling
40% research at least the main spots of the city that are visiting
Maps are very important.
93% use Google Maps and 66% use travel guides.
Planning tools are essencial during the trip.
87% consult the planning tools while traveling.
Most of hypothesis were validated, considering the tours list as the more relevant and the shopping list as the less relevant.

Sharing plans is very important.

73% plan the trip with friends or partners and 47% effectively plan the trip.
How people organize their tours list:

How people organize their itinerary:

What kind of information regarding the tours they care about:

Budget control is very important.

60% controls their daily budget while 20% checks only the total budget.

100% of the interviewers would like to have access to their past trips history.

100% believes that an app would help to plan a trip.
Gathering all the informations in one place.
Insights:
- Tours list organized as a calendar.
- App available offline.
- Flight alerts.
- Tours tickets.
The survey validated some hypothesis, brought new insights and it was possible to conclude that the app would be a very useful tool before, during and after a trip.
Sign up / Profile
Name, photo, email.
Invite people to share the trip
If the invitation goes to someone who isn't an app user yet, it goes through email. If the invitation goes to an app user, it goes through notification. The user who invites, gets a notification once the invitation is accepted.
Dowload trip
Offline access to what was planned.
Past trips
An accessible history with the user's past planned trips. Once a trip hits its end date, it goes straight to history.
Basic trip info
Start and end dates; flights; hotels; checklist; who shares the trip.
Budget
Total and per day. This is information is private; people who are sharing a trip will only see their own budget.
Tours - List
Name, address, price, date/time that intends to go; tags for kinds of tours; favorite tours; itinerary on chronological order. Tours added to list go straight to map.
Tours - Map

Besides tours from the list, it should be possible to mark on map other places, considering only their address and tag.
Engagement

App sends notifications on specific dates to remind the user to plan everything, and also to wish for a great trip on the day before.
Here I'll register, well, what went wrong during the process.
A) I went a bit too far on the mindsets thing.
I was lucky enough to have instant access to the two mindsets that mattered to the project: me and Lorenza represented them. When I was thinking about what we look for before, during and after a trip, I kind of visualized user's needs and challenges, and also user journeys, but I didn't register them, because I wasn't aware of that. 
Since I couldn't understand what I had already done, I defined 4 mindsets that had a lot in common, and I was thinking about things that wouldn't matter to the purpose of the app like how long is the trip. After some frustration, I stopped what I was doing and listed their characteristics. That was when I could see that what really mattered was:
1) 'Do they care if the trip is planned?' If not, they won't even use the app;
2) 'Do they effectively plan the trip or let other people do it for them?'.
At the time, I had 4 mindsets that cared about the planning and 3 of them that effectively plan their trip. That wasn't taking me anywhere! After studying a little bit more about personas/mindsets and user journeys, I could understand what I had already done. So I took a step back to the path I was at the beginning and things started to make more sense.